Getting to and from Valencia: train & bus networks
By Marie Sonzini

G
eographically speaking, Valencia is located at the extreme east of the Iberian Peninsula. Consequently, in addition to the air network, Valencia had to develop an important regional, national and international railway and bus network. With the recent online AVE (High Speed Train), Valencia is now only 1.30 hours from Madrid.
Trains (Renfe)
---
The beautiful "Estación del Norte" and the new and temporary AVE (high-speed train) station, "Estación Joaquín Sorolla", are the two main terminal stations in Valencia.
Final AVE station, which will be called the "Estación Central de Valencia", is scheduled for 2014.
This new station, completely underground, will be located in the gardens of the future Central Park, the location of existing marshalling yard tracks and old warehouses. It will integrate the traffic of the "Estación del Norte".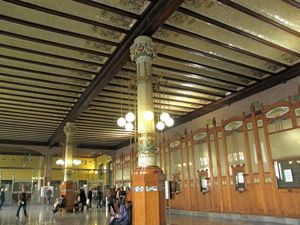 Estación del Norte (North Station)
Estación (station) del Norte, or Estaciò del Nord in valencian, is a beautiful Art Nouveau style building dating from the early 1900s.
It is located in city center (Xativa station) next to the Arena of Valencia and only a minute away from the Town Hall Square.
Estación del Norte serves the commuter, medium and long distance train networks.
Commuter train network (cercanias)
Destinations Gandia, Xativa/Moixent, Caudiel and Castellón de la Plana

Réseau moyenne distance
Destinations Alicante, Murcia, Carthagena, Albacete, Alcazar de San Juan, Ciudad Real, Alcoi, Teruel, Zaragoza, Huesca, Tarragona, Barcelone
Long distance trains (Phone: 902 43 23 43 - www.renfe.com )
. ALARIS (Gandia, Madrid, Alicante, Barcelone)
. ARCO (Sevilla, Málaga, Almería, Granada, Barcelona)
. TALGO Mare Nostrum (Carthagena, Montpellier)
. TALGO (Lorca, Murcia, Barcelona)
. TRENHOTEL Alhambra (Granada, Barcelona)

Estación Sant-Isidre
Since 2009, as the result of the construction of the new AVE (high speed train) line , 2 lines of the suburban network (cercanias) of the "Estación del Norte" were transfered to Sant-Isidre (Sant-Isidre metro station)
Destinations Buñol (city of the Tomatina)/Utiel and Xirivella l'Alter
Gare AVE (High speed train) Estación Joaquín Sorolla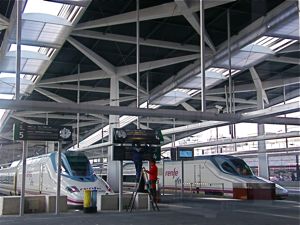 C/ San Vicente Mártir 171
The temporary AVE station, Estación Joaquín Sorolla, is in service since December 2010. It is ten minutes walk from the Estación del Norte.
A free shuttle from the Estación del Norte is available for travelers on presentation of the ticket.
Pending the opening of the future Joaquin Sorolla underground station in 2011, the nearest station is Bailén.
High speed train network
(AVE, Alta VElocidad, AVE also meaning bird in spanish)
Valencia-Madrid (just over 1.30 h instead of 3.15 h)
Long distance trains
. ALVIA (Valencia-Albacete-Madrid and Castellón-Valencia-Madrid)
. EUROMED (Alicante-Valencia- Barcelona).
Phone (+34) 963 537 278 - www.adif.es
Bus
---
Estación de Autobuses de Valencia
Calle, Menéndez Pidal, 11 - 46009 VALENCIA
(Turia station, near the commercial center Nuevo Centro)- Phone (+34) 963 466 266
Apart from the main towns and villages of the Valencian Community, regular bus lines from Valencia also serve many major Spanish cities and international destinations.
Valencia bus station does not have a web site yet. For information on locations, times and prices, it is necessary to contact the various bus companies by phone, mail or visiting their website when there is one. The best thing is to there and ask at the ticket offices of the bus station.
Bus companies operating regional and national routes:
LA CONCEPCIÓN Phone (+34) 963 499 949 - www.laconcepcion.net
Phone (+34) 963 470 427 - www.travicoi.com
AUTOCARES HERCA Phone (+34) +34 963 491 250 - www.autocaresherca.com
AUTOBUSES BUÑOL Phone (+34) 963 491 425 - Fax (+34) 963 486 698 - www.bunyol.com
Bus companies operating national routes:
GRUPO AUTOBUSES JIMÉNEZ Phone (+34) 963 407 571 - www.grupo-jimenez.com
AUTO-LÍNEAS ALSINA Phone (+34) 963 497 230
LA REQUENENSE DE AUTOBUSES Phone (+34) 963 497 230
BILMAN BUS Phone (+34) 963 478 989 - www.bilmanbus.es
AUTO-RES Phone (+34) 963 492 230, Spain : 902.02.09.99 - www.auto-res.net
ALSA Phone (+34) 913 270 540, Spain : 902.422 242 - www.alsa.es
AUTOCARES GRUPO SAMAR Phone (+34) 963 495 609 - www.samar.es
HIFE Phone (+34) 963 492 310 - www.hife.es


Bus companies operating international routes:
- LINEBÚS Phone (+34) 963 401 979 - www.linebus.es
- EUROLINES Phone (+34) 963 496 855 - Spain : 902.405 040 - info@eurolines.es
www.eurolines.es
- ALSA Phone (+34) 913 270 540, Spain : 902.422 242 - www.alsa.es
- STARBUS Phone (+34) 963 496 767 - Spain : 902 153 655 - comercial@starbus.es
www.starbus.es