Valencia Tourist Information Centres
By Marie Sonzini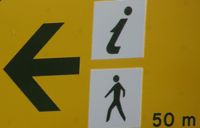 T
ourism in Spain in general, and more particularly in Valencia is a long tradition. There are more than 400 tourism offices throughouth the whole Valencian Community. In Valencia city, there are now six tourist offices and one at the airport. "La Paz", located Calle de la Paz, is the main tourist centre of Valencia.
Tourist services
---
You will find a lot of precious information, documentations as well as leaflets and services in the tourist offices of Valencia such as:
.
maps of the town and of the whole Valencian Community as well as maps of public transports in Valencia, programs of festivities, cultural events, hotels addresses, posters, free internet...
.
sale of VLC Tourist Cards (public transports), souvenirs, hotels bookings...
.
sale of tickets for the City of Arts and Sciences (CAC)...
.
Tourist bus, guided tours, excursion to the Albufera National Park...
Tourist Information Centres in Valencia City, Beach & Port
---
La Paz
(main tourist centre) - Calle de la Paz, 48 - 46003 Valencia
www.comunitatvalenciana.com
Phone +34 963 986 422 - Fax +34 963 986 421 - Mail:
valencia@touristinfo.net
Opening hours: Monday to Friday (9 am to 8 pm), Saturday (10 am to 8 pm), Sunday & Public Holyday (10 am to 2 pm)
Plaza de la Reina
(near the Cathedral) Plaza de la Reina, 19 - 46002 Valencia
www.turisvalencia.es
Mail: infoturistica@turisvalencia.es - Phone +34 963 153 931 - Fax +34 963 153 920 - Opening hours: Monday to Saturday (9 am to 7 pm), Sunday and public holiday (10 am to 2 pm)
Ayuntamiento (Town Hall Square)
(just in front of the main door of the central Post Office)
Plaza del Ayuntamiento - 46001 Valencia
www.turisvalencia.es
- Mail: ayuntamiento@turisvalencia.es - Phone +34 963 524 908
Opening hours: Monday to Saturday (9 am to 7 pm), Sunday and public holiday (10 am to 2 pm)
Joachín Sorolla
Estación AVE Valencia Joaquín Sorolla (High-speed train Station)
San Vincente, 171 - 46007 Valencia
www.turisvalencia.es
Phone +34 963 803 623 - Fax +34 963 803 623 - Mail: infoturistica-js@turisvalencia.es
Opening hours:
Monday to Friday (10 am to 6 pm), Saturday, Sunday and public holidays (10 am to 3 pm)
Playa (Plage)
Paseo Neptuno, 2 - 46011 Valencia
www.turisvalencia.es
Mail: infoturistica-playa@turisvalencia.es - Phone +34 963 555 899 - Fax +34 963 555 899
Open from June to September: Monday to Saturday (10 am to 5 pm), Sundays and public holidays (10 am to 2 pm)
During the F1: Monday to Friday (10 am to 7 pm), Saturday & Sunday (10 am to 6 pm)
Valencia Puerto
ACCIONA Station - Muelle (Quay) de Poniente - 46024 Valencia
www.turisvalencia.es
- Mail: infoturistica-puerto@turisvalencia.es - Phone +34 963 674 606
Open only during arrivals and departures of ferries and stops of cruise ships
Tourist Information Centre at Valencia Airport
---
Valencia Airport (Manises)
46940 Manises (Valencia) - Arrival terminal (just in front of the cafeteria)
www.turisvalencia.es
Mail: infoturistica-aeropuerto@turisvalencia.es - Phone +34 961 530 229 - Fax +34 961 598 451
Opening hours:
March to October: Monday to Friday (8.30 am to 8.30 pm), Saturday, Sunday & public holidays (9.30 am to 5.30 pm)
July and August: Monday to Friday (8.30 am to 9.30 pm), Saturday, Sunday & public holidays (9.30 am to 9.30 pm)
November to February: Monday to Friday (8.30 am to 8.30 pm), Saturday (9.30 am to 5.30 pm), Sunday and public holidays (9.30 am to 2.30 pm)
You will find as well, at the airport tourist info, VLC Tourist Card Vending Machines (24 hour Service)
Mail: atencionalvisitante@turisvalencia.es - Phone +34 961 530 229