Spanish Study Holidays & Spanish schools
By Marie Sonzini

W
hy not enjoy your holiday learning and improving your knowledge of Spanish. In summer, it is very hot in Valencia and the beach is pleasant especially at the end of the afternoon. That leaves you a lot of free time. Anyway it's always helpful to know some of the local language.
Besides it is not a lose of time, Spanish being the fourth most commonly spoken language in the world.
Language study holidays in Valencia
---
Regarding registration in a language school in Valencia, two options are available:
- a language study holidays where you will be fully taken care of, including housing, excursions, activities, themed nights. Some organizations also offer additional courses such as flamenco or spanish cooking for example.
- or a simple registration only for a language course. During off-peak periods, you can always register at any time.
Spanish schools in Valencia
The following Spanish schools are all recognized by the Cervantes Institute "Instituto Cervantes". They offer courses for all levels, from beginners who do not know a word of Spanish to the most advanced. You can choose between courses in groups, tutoring, conversation classes, intensive or long term courses with flexible hours.
Language method to learn Spanish
You can also use at the same time a language method for learning Spanish. However, whatever approach you choose, it has to be with an audio CD or even better a MP3.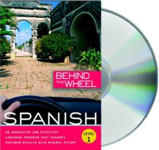 Spanish Behind the Wheel
Mark Frobose
Level 1
Audiobook, CD, Unabridged Audio CD
Price: $28,52
www.amazon.com